Friday, 13 January 2017

Hydrodif has the widest range of metric and imperial MDPE compression fittings, PVC valves and fittings and MDPE compression pipes. This presentation gives more information about our company and product range.
Click here to read the profile in full.
Friday, 13 January 2017

Our Geoquip Water Solutions company profile gives you a better insight into the products and services we offer.
Click here to read the profile in full.
Thursday, 12 January 2017

We supply a wide range of Franklin pumps and motors with various specifications to suit your applications, we have these from stock or on short delivery.
Click here for more information.
Wednesday, 5 October 2016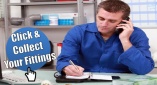 Hydrodif (based in Ipswich, Suffolk), the UK's premier supplier of PLAST compression water fittings has a new approach to 'Click and Collect'. Plumbers, landscapers and other water industry professionals can now order online and collect from Hydrodif's Ipswich warehouse the same day, where extended opening hours are available, or order fittings for a next-day delivery.
Wednesday, 17 August 2016

The ability to see into a deep borehole has been an aspiration for well drillers, well owners, and geologists for hundreds of years. Whether inspecting a borehole to identify a problem, attempting to retrieve a lost tool, presenting the results of a well cleaning treatment or confirming the depth of a newly drilled borehole, the need for visual inspection is crucial. This is particularly so in today's market, where value-added service and quality control are becoming increasingly important.