Borehole conference focuses on the importance of monitoring and maintenance
14 November 2022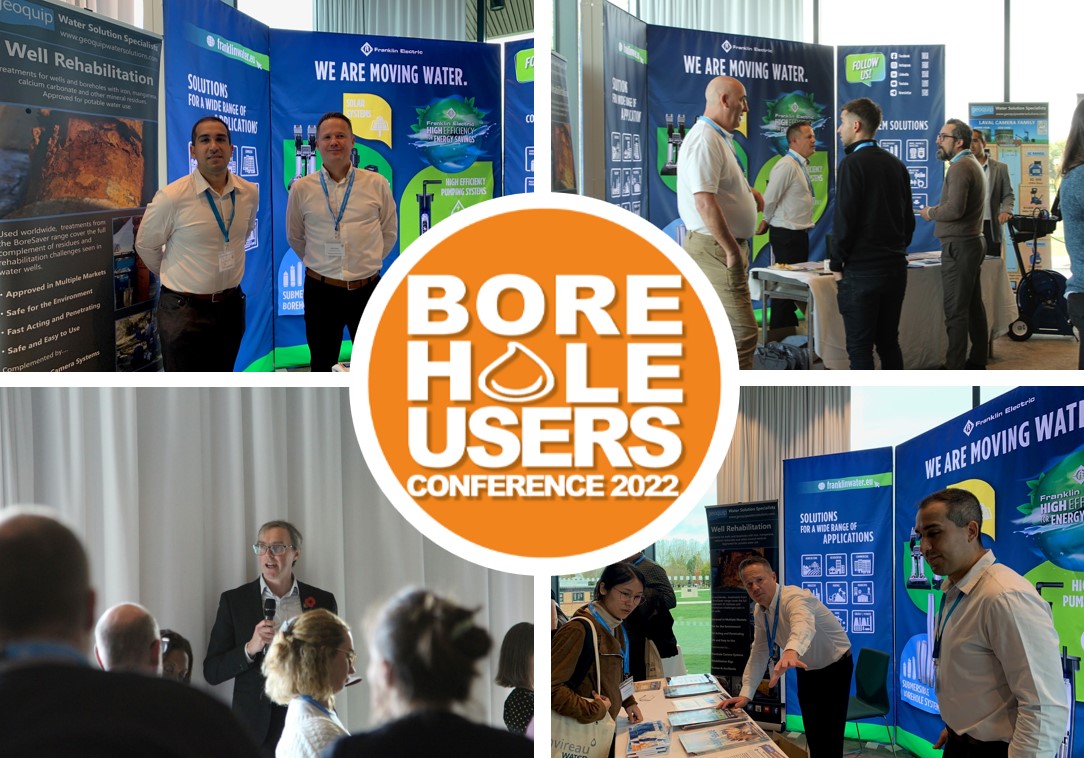 This year's Borehole Users Conference was a key opportunity for Geoquip Water Solutions and Franklin Electric, as it put boreholes front and centre of discussions.
Held on November 3rd and organised by Envireau Water in collaboration with the British Soft Drinks Association, the event was held at Aspects at the National Memorial Arboretum in Staffordshire.
As the sole UK strategic partner for Groundwater Products for Franklin Electric (Europe), Geoquip shared a stand with Franklin. Geoquip's Josh Rodriguez and Franklin's Richard Knipe were kept busy all day with a stream of visitors keen to find out more about the equipment on show.
"It was an excellent event and there was a great deal of interest in our products and solutions," said Richard. "It gave us an opportunity to expand on the theme of the day and use our expertise to explain the range of solutions available to ensure boreholes continue to work to maximum capacity and efficiency."
On the stand was information on the full range of Franklin Electric pumps and motors, together with a working Laval Borehole Camera, which attracted plenty of attention.
The conference focused on the UN-Water's theme 'Making the Invisible Visible' and covered a wide range of topics, including 'Where's the Best Location for my Borehole?' and 'What's Going on Inside Boreholes?'.
Opening the day's agenda, Dr Phil Ham, Managing Director and Principal Hydrogeologist at Envireau Water, described groundwater as a 'hidden resource' and probably our 'biggest asset' in dealing with climate change.
"Groundwater needs to be protected and effectively managed to ensure it provides water for the environment and the businesses that rely on it too," he said. "We hope today will allow you to define more practically what it means to you and what you can do to better manage boreholes and the groundwater assets we all have to share."
Among the speakers was Dr Mike Jones, formerly of Thames Water, who gave the keynote speech, saying groundwater is often undervalued and difficult to communicate about to the public because it can't be seen.
He talked about the need to appreciate the different roles stakeholders have in groundwater, to understand the future challenges around planning, the need to observe and learn, to consider investment and stewardship, and why groundwater management is so important.
Penny Jenkinson, Principal Hydrogeologist at Envireau Water, took the audience through issues around finding the best location for a borehole, making the point that drilling boreholes is a science, so it is important to get it right in order to maximise yield and water quality and minimise financial cost/risk.
Her talk included consideration of different types of mapping, the use of local records and databases and the pros and cons of pilot holes, trial holes and production holes.
In his presentation, Dave Hingley, of European Geophysical Services, included a series of photographs from CCTV surveys highlighting the importance of knowing what is going on inside a borehole.
He talked about how using a downhole camera allowed users to understand issues such as recognising spikes in turbidity, water quality variations, contamination and checking the physical condition of the borehole. He recommended CCTV surveys for new boreholes to give a good general overview of the condition of the borehole from the start, and then further surveys on a 3-5 year basis.
Other areas of his talk included verticality techniques, cement bond logs and natural gamma.
These topics were picked up on by James Dodds, chairperson and founder of Envireau Water, who stressed the importance of interpreting borehole data and using a combination of tools to do so.
He said that while a lot of people choose the option of using CCTV as an "easy way" to see what is going on in a borehole, it is the use of additional geophysical techniques which can provide information on issues such as faults and cavities. This, he said, should be "far more routine" than it is.
Typically, these techniques would be used when a greater understanding or quantification of parameters is needed.
One of two afternoon workshops was on the topic of Borehole Myths, featuring Phil Merrin, Principal Hydrogeologist, and his colleagues from Severn Trent Water.
Together, they tackled questions such as 'why someone should worry about their borehole when it's been fine for years', 'what could go wrong' and 'what the benefits are of CCTV surveys and geophysics'.
The session covered issues such as pumping systems, water quality, water levels; plus the condition of boreholes and the problems that can be caused.
The most common of these were listed as:
Physical
Chemical
Microbial
Operational
Structural
Phil talked the audience through examples of how they had dealt with such problems in different boreholes. He stressed the need for regular monitoring and surveying, as well as the importance of data, to build up a picture of activity which can then help identify when changes happen.
He went on to personally recommended a combination of both mechanical cleaning and chemical cleaning as a 'starting point' to tackle issues.
Richard concluded: "It was very pleasing to hear such a focus on issues such as monitoring and maintenance of boreholes. This is something we and Geoquip have been advocating for a very long time and we wholeheartedly agree with the comments of the speakers."
For more information and advice, contact the team at Geoquip.
To read more about the show click here: https://www.envireauwater.co.uk/the-borehole-users-conference-2022-retrospective