CALL US: +44(0)1473 462046
Franklin Electric E-tech is pleased to announce the range extension up to 150kW for its successful High Efficiency Submersible Borehole Systems (HES). The system consists of an 8" synchronous submersible NEMA motor with associated variable frequency drive and matching output filter.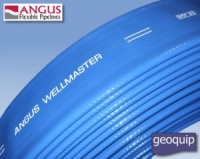 CALL US: +44(0)1473 462046
WELLMASTER 150 is the economic, small diameter Flexible Rising Main for domestic or rural borehole ground water extraction and well monitoring operations.