A Downhole Perspective (Borehole Inspection)
17 August 2016
The ability to see into a deep borehole has been an aspiration for well drillers, well owners, and geologists for hundreds of years. Whether inspecting a borehole to identify a problem, attempting to retrieve a lost tool, presenting the results of a well cleaning treatment or confirming the depth of a newly drilled borehole, the need for visual inspection is crucial. This is particularly so in today's market, where value-added service and quality control are becoming increasingly important.
It will come as no surprise that the camera that has revolutionised the borehole inspection process – and the drilling industry - has come from Laval Underground Surveys, home of the first ever borehole camera.
In 1946, Claude Laval II took on the challenge of designing a borehole camera system in the agriculture fields of Fresno in California. The result was a camera design that could withstand the pressure of 600 meters of submergence, as well as the extra challenges of remote frame advancing and remote flash. His camera was 2.7 meters long and weighed over 90 kilograms. With this technological breakthrough in the summer of 1947, Laval became the first person to photograph the interior of a well.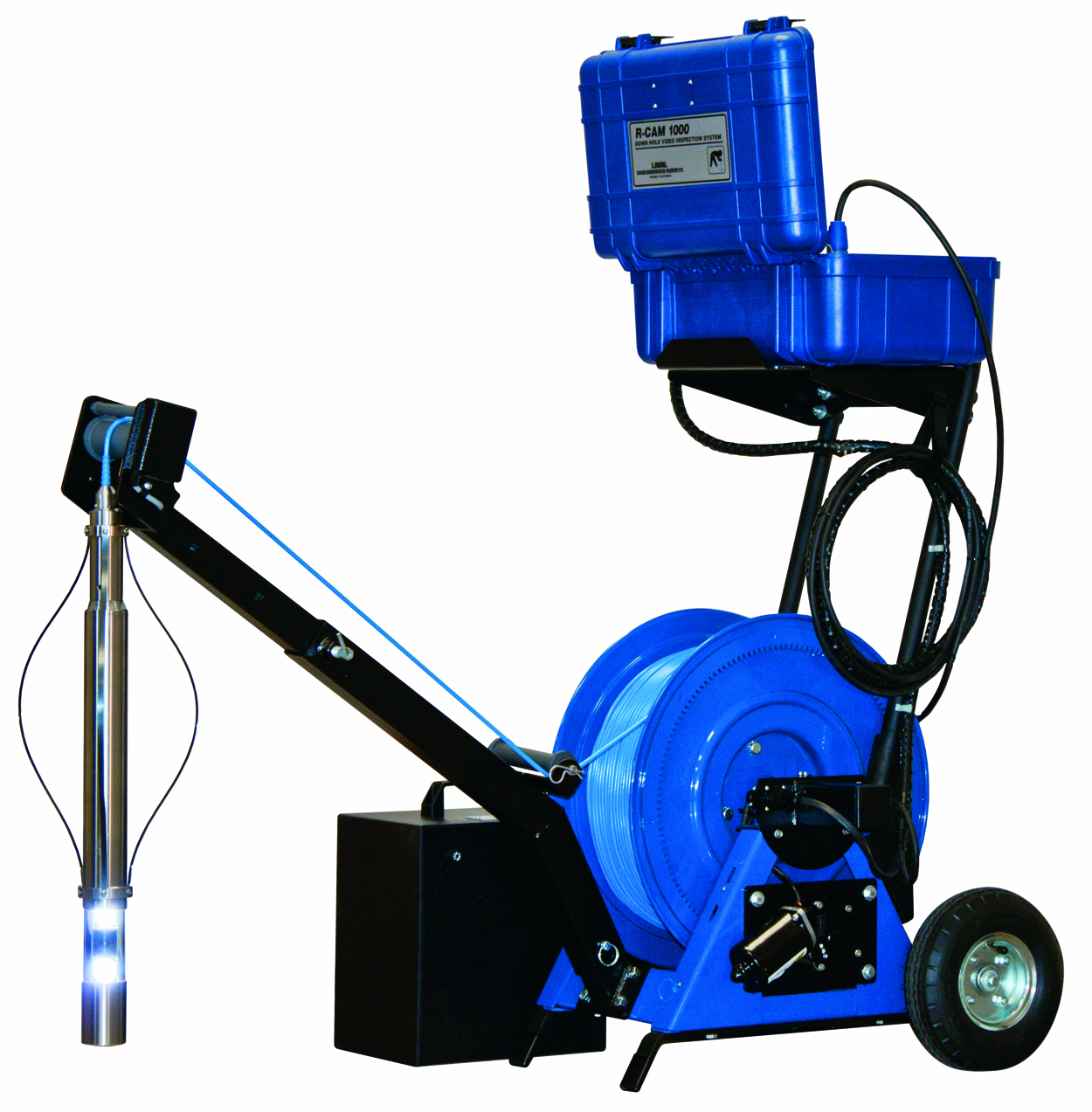 The R-CAM 1000 XS is Geoquip's most popular system
70 years later, technology has moved on dramatically. Today, weighing as little as 8 kg, the Laval downhole video camera systems are compact, portable, affordable and high-quality descendants of Claude Laval's pioneering invention. The systems are ideal for drillers, maintenance companies and on-site exploration teams and come in a range of capabilities and applications.
The introduction of the Laval portable camera systems has had a significant impact on the drilling market since their introduction ten years ago. Mike Deed from Geoquip Water Solutions, distributors of the Laval systems across Europe, believes they are transforming the quality control and value-added aspects of the industry. "It has never been so easy or cost effective to demonstrate the results of drilling or maintenance work. Our systems have potentially put a downhole camera in the hands of every driller because they are portable, affordable and of a professional grade. We offer lightweight portable camera systems for the individual operator, skid mounted systems that are easily lifted onto a truck or cargo van, trailer mounted systems and a fully equipped vehicle mounted system."
Laval has cleverly designed its camera series so that they are both stand alone, self-contained systems but also compatible with each other. Any of the systems can be added to, at a later date, if deeper or narrower viewing conditions occur or a company increases its capabilities.
The SC series is the ultra light system and is available in the SC-350 or SC-500 option. Compact and portable, it is capable of downhole viewing of boreholes from 5cm to 25cm wide and either 110m (350 ft) or 150m (500ft) deep.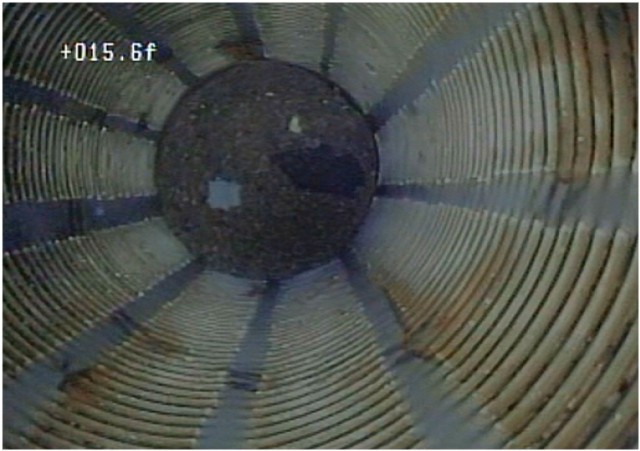 A downhole view of a borehole at 15ft, clearly showing the condition of the screen and the quality of the water
The R-Cam series is Geoquip's most popular system and is used around the world. "It's a completely portable, self-contained video inspection system that can inspect boreholes up to 400 meters deep and 30cm in diameter," said Mike Deed;
"This lightweight, smaller size, professional grade camera features both down and side viewing capability, an on-screen depth counter, liquid crystal display, DVR, 12V DC power supply and everything else needed to conduct a professional survey."
The portability of the systems is a feature that has been well received by drillers. "Having a portable unit has allowed me to reach some nasty areas," said Tom Frary from TND Drilling in Chelmsford, UK. He continued, "I've taken that camera into terrain where you couldn't get an all terrain vehicle!"
In the drilling industry, as in any other industry, commercial considerations are always an issue and for many drillers even a cost effective, portable system may seem a daunting expenditure. But consider the cost of a rig and crew standing while a tool is lost underground. With the portability of the R-Cam 1000, this unit could be put in the back of normal car, driven to the site and, with its self contained power pack, win valuable time in the recovery of the equipment, getting the crew back drilling again in the minimum of time.
The camera systems have been used for an incredibly diverse range of applications including the diagnosis of unknown problems in water wells, the rehabilitation of existing wells, the geologic monitoring of boreholes in earthquake zones, a range of rescue operations and as a before and after video inspection tool.
Improving the quality of water in developing nations is one area where video cameras can make a life-saving difference, particularly in areas where poor construction techniques are more common. Dom Nwachukwu of Groundwater Development Engineering in Lagos, Nigeria reported, "We have twice so far in two holes found a problem area we can address immediately and re-shoot later." Humanitarian organisations in African are now using the SC350 and SC500 to help diagnose and repair non-functioning wells that are vital to remote communities. The small lightweight camera systems are ideal as they are small enough to be flown around in a two-seat Cessna but powerful enough to identify problems up to 150 metres down a borehole.
Borehole video cameras have been used for rescue operations in mines in New Zealand and North America, and were pivotal in saving "Baby Jessica," after she fell into an 8-inch borehole in Texas in 1988. Laval's camera was used during the rescue operation at the fatal Crandall Canyon coalmine collapse in 2007 in Utah where it confirmed a survivable space existed. They were also used at the Pike River mine disaster in New Zealand in 2010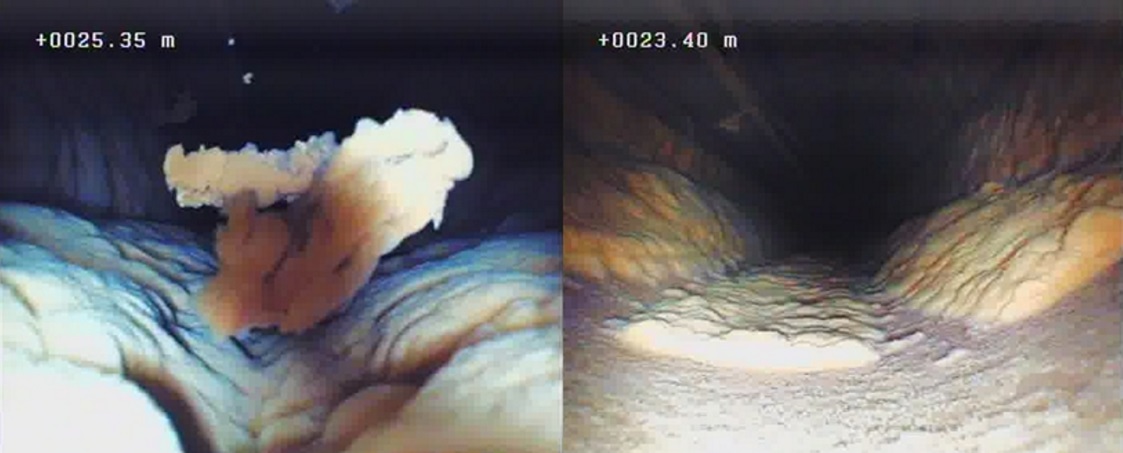 These stills taken from the a downhole video recording at around the 25m point, show the condition of a well before and after treatment to remove iron bacteria.
Recently Laval launched a deeper, more robust version of their R-Cam series, which offers new opportunities for operators to monitor, inspect and evaluate conditions in deep well and borehole applications. The winches extend the standard production range of the Laval camera systems and offer deep well options, down to 609 metres. The winches are fully compatible with Laval's entire range of portable downhole camera systems and extend the depth range of the R-Cam 1000, the R-Cam 1300 and the SC-350 systems. The winches also form part of a whole package for operators who are new to the Laval downhole camera and video systems.
Laval downhole cameras have been in Australia for some years and the hydrogeological conditions in Australia have made them increasingly popular. Their core application has been with the water well drillers, using them to identify problems with the well, including clogging, reduced yields and obstructions, and then to recommend a well rehabilitation solution.
Recently a driller went to inspect a well in South Western Australia and after putting the camera down the borehole, found the blockage was caused by a nest of particularly venomous snakes, as many as six. As the operator continued to film, one snake started climbing up the camera and wire line and it didn't take long for the camera operator to work out that the snake was on its way out of the well. The operators ran and animal control specialists were called in!
Minerals and metals exploration and mining is an important industry in Australia. Mines that extract minerals or metals rely heavily on groundwater to operate, using it in all steps of the mining process. If water yields decrease or dry up, work stoppages or mine shutdowns occur and there are also environmental considerations as toxic waste and mine effluents can be mobilised by water, causing regulatory, legal and reputational risks for companies. Mining companies have long been aware of these water risks and spend considerable time and effort addressing them.
The Tiwest Mine at Cooljarloo in Australia produces more than 700,000 tonnes of heavy mineral concentrate every year and has 24 wells in two separate fields, utilising water in a diversity of processes and techniques, ranging from watering rehabilitation areas, to dust control, to dredging used in the mining process. When pump breakdowns started to increase at the mine and groundwater yields were consistently below target, Kevin Wintergreene from Water Bore Redevelopers (WBR) was able to identify the problem using a downhole camera system and recommend a phased rehabilitation treatment and ongoing maintenance programme

The Laval Camera family
Laval camera systems have also been used to inspect micropiles and boreholes on construction sites. In New York City they were used for the inspection and visual verification of micropiles during construction of some buildings and the impact was enough that New York now requires video inspection of all micropiles throughout the state. During the initial phases of the World Trade Center Transportation Hub project, Nicholson Construction Company, in a joint venture with E.E. Cruz, employed a portable borehole video system to measure operational parameters. In the UK, professional steeplejacks use portable camera systems to inspect chimneys and smokestacks.
Garrett Jones, from Laval Underground Surveys, believes the time is fast approaching when well owners will demand inspection evidence before taking ownership and for many this would be a welcome addition to the drilling process. "Quality control is a vital component in any process and demonstrating service efficacy is essential. However, this needs to be supported by cost effective and straightforward techniques that will facilitate this demonstration. It would seem that affordable and professional downhole video inspection is becoming an essential part of the water well industry."
For further information on the history and products in the Laval Camera family, please refer to the below presentation. Click here to see our well inspection camera products.