"We made it" – Mike & Lizzie Deed celebrate raising £15k for Hospice after scaling Africa's highest mountain
4 January 2023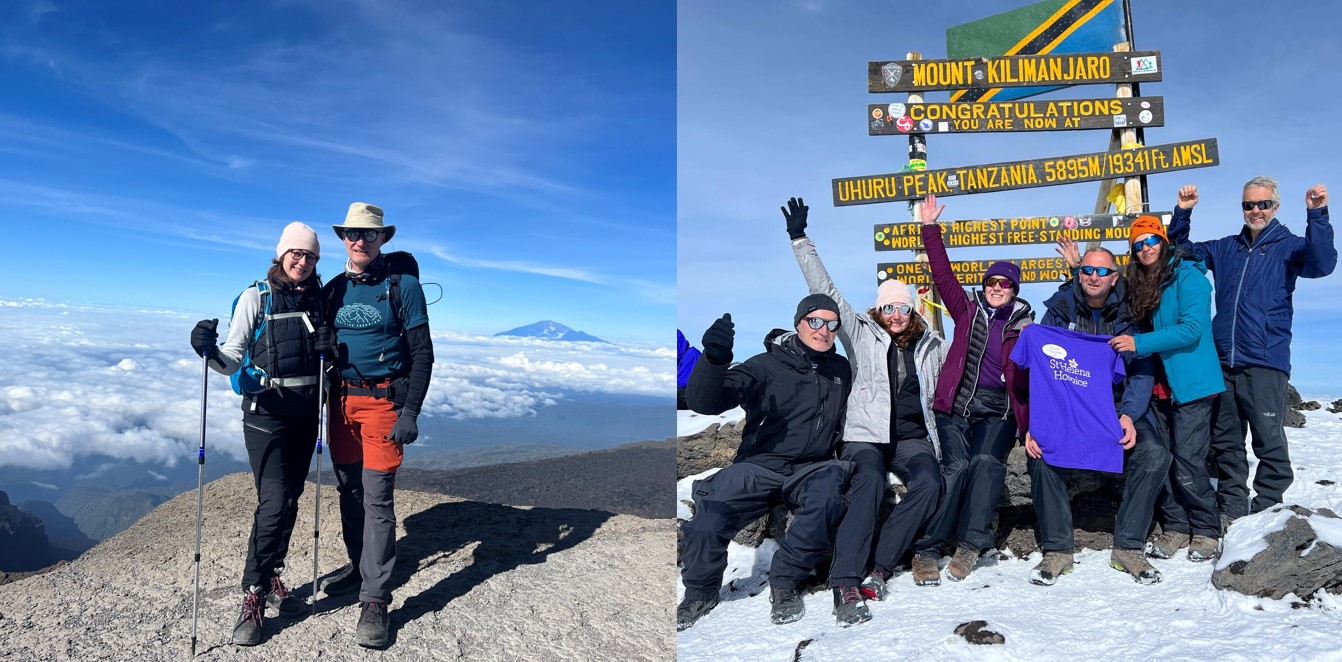 Geoquip's Mike Deed and his daughter Lizzie have good reason to celebrate after raising £15,000 in a momentous climb up Mount Kilimanjaro in Tanzania.
The pair were part of a six-strong team raising funds for St Helena Hospice in Colchester, and together they faced sleep deprivation, combined with mental and physical exhaustion, as well as coping with temperatures from +30oC to a snowy -15 oC.
It was, says Mike, the "hardest thing" he has ever done, but all the more rewarding as collectively, the group raised over £36,000 for the charity.
At 5,895 metres high, Mount Kilimanjaro is Africa's tallest mountain, and the group tackled the Machame Route (also known as the 'Whiskey' Route) because it includes the infamous Barranco Wall which, at 257 metres high, requires some very nifty footwork and a head for heights on its narrow pathways.
Although Mike put in some pre-trip altitude training earlier this year in Nepal, he says this climb was much tougher as the group slept in tents throughout the six-day trek, hiking up to 30kms over the final 48 hours, with as little as 3-4 hours' sleep.
"Sleep deprivation made the whole thing seriously harder," he said. "For the final push to the summit, we were up at 11pm and climbing in the middle of the night with just our head torches to reach Stella Point by 8am and then on to Uhuru Peak, the highest point, for sunrise.
"We were thrilled to have finally achieved our goal and raised so much money for the Hospice, but what made it so very special was being with Lizzie and sharing the experience together."

Lizzie also paid tribute to her father, saying she "couldn't have done it without him" and praising his support, especially when she suffered badly with altitude sickness.
"On the last day heading to the summit, exhaustion got to me and I just didn't know if I could do it," she said. "I was so determined to go on and when Dad and I got to the top together, it was incredible with such amazing views. I couldn't have done it with anyone else, we supported each other at every step, and I thought how lucky we were to be there."
Following their descent, group members were each given official certificates marking their big adventure, before heading off for a much-needed hot shower.
It wasn't, said Lizzie, until they had descended the mountain that they realised just what they had achieved, something which was underlined on the flight home when their pilot pointed out Mount Kilimanjaro's peak pointing out above the clouds.
Both were full of praise for the Tanzanian support team, including guides, chefs and porters who took care of the group throughout the trek – offering words of comfort, food and energy-boosting hot chocolate drinks after that Barranco Wall climb.
The trip also provided a timely reminder of the march of climate change. A climber who Mike had met previously talked of doing the same climb in the 1990s and walking through an ice corridor no more than two metres wide on the way to Uhuru Peak.
"He talked about being able to touch the glacier," said Mike. "We could still see the glacier, but now it is it is some 500-750 metres away, which really brought home the difference that warmer temperatures are making in such a short space of time."
Monies raised will go towards the Hospice's funds for helping families in need.
To add to Mike and Lizzie's final fundraising total, please visit https://doris-stringer-1930-2015.muchloved.com/fundraising/events/194105719