Related Products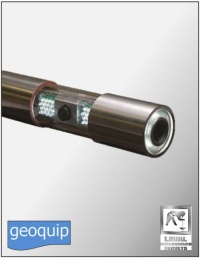 R-CAM Downhole Camera
SKU: AL-R-CAMDownholeCamera
The All New R-Cam 1000 XLT Camera is equipped with two cameras in a single housing, each with a wide-angle lens, for viewing downhole and side view images in water wells or boreholes. Low light level CCD sensors allow the cameras to detect images with minimal lighting power, as low as 1 LUX
CALL US: +44(0)1473 462046
---
R-CAM 1000 XLT Downhole Camera System
SKU: AA5A-R-CAM1000XLTDownholeCameraSystem
The Laval R-Cam 1000 XLT downhole camera is a completely portable, self-contained video inspection system that can inspect boreholes up to 300 metres (1000 ft) deep and 30.5cm (12ins) in diameter. New adjustable lighting and hard drive storage.

CALL US: +44(0)1473 462046
---
SC-350 Downhole Portable Camera System
SKU: AL1A-SC-350DownholeCameraSystem
The SC-350 Portable camera system for water wells and boreholes from 2" inches (5cm) to 10" inches (25cm) and can reach depths of 107 metres.

CALL US: +44(0)1473 462046
---
DW-1500 Deep Well Downhole Camera Winch
SKU: DW-1500DeepWellDownholeCameraWinch
The DW-1500 is a NEW member of the Laval camera family, this deep well portable winch can reach depths of 450 metres.

CALL US: +44(0)1473 462046

NEW RANGE
Scout Electronic Control Panel£114.00
Scout Electronic Control panel is easy to use, intuitive and it's a Wireless panel that transforms a standard pumping system into a smart system using yours smartphone for remote control via Wi-Fi.