Related Products
BoreSaver Liquid Enhancer
SKU: AA2A-BoreSaverliquidenhancer
Iron Bacteria control in sensitive installations
Enhancer for entire range

BoreSaver Liquid Enhancer is used when greater iron bacteria control is required or in sensitive installations where quality of supply or flow is critical. This can be added to the entire range of products for more power.

CALL US: +44(0)1473 462046
---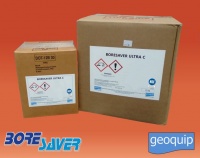 BoreSaver Ultra C
SKU: AA1A-BoreSaverUltraC
For Cases of :
Iron Oxide / Hydroxide Residues
Manganese Oxide
Iron Bacteria
BoreSaver Ultra C is an approved borehole cleaning, well rehabilitation and water supply treatment. It completely removes iron and manganese oxide deposits or residues and minimises iron bacteria contamination.

CALL US: +44(0)1473 462046

NEW RANGE
Scout Electronic Control Panel£114.00
Scout Electronic Control panel is easy to use, intuitive and it's a Wireless panel that transforms a standard pumping system into a smart system using yours smartphone for remote control via Wi-Fi.