Plaudits stream in for BoreSaver after conference appearance: Borehole Users Conference
28 January 2020
Industry enquiries about the BoreSaver range of specialist treatment solutions continue to pour in, after a host of positive feedback from the recent Borehole Users Conference.
The range of borehole cleaning and well rehabilitation treatments was featured on Geoquip Water Solutions' stand, giving the Geoquip team the opportunity to talk about BoreSaver's many success stories and share latest developments.
The theme of the conference, which was organised by Envireau Water and held last autumn at Holywell Park Conference Centre in Loughborough, was Borehole Rehabilitation – how to improve yield, water quality and reduce risk.
Geoquip shared a stand with Franklin Electric E-tech, giving both organisations the chance to talk about how their products meet the demands of today's borehole users.
The conference is recognised as a key event for anyone who uses, manages, owns or plans to develop a private water supply and this year saw the largest number of delegates to date.
Speakers included Dr Georg Houben, deputy head of the 'Groundwater Resources' department at the Federal Institute for Geosciencs and Natural Resources in Hannover, who talked on the topic of Water Well Rehabilitation; Professor Rick Brassington, Visiting Professor at Newcastle University, who discussed the effectiveness of chemical cleaning within boreholes; and Dr Phil Ham, Managing Director of Envireau Water, who shared his knowledge of what borehole rehabilitation means to real operators in practice.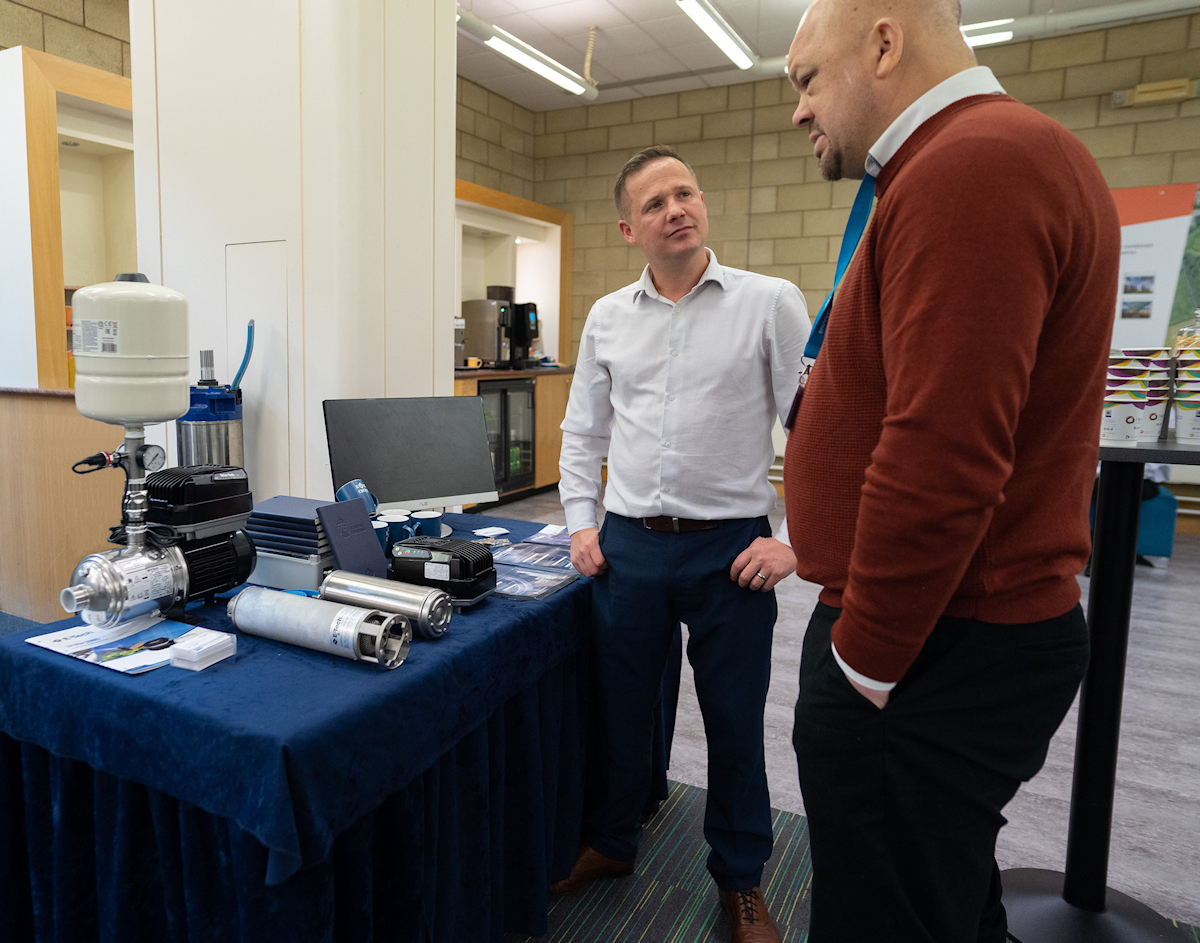 The conference included two workshop sessions:
Private Water Supply Boreholes
Practical Rehabilitation
Geoquip's Adam McCarville, said: "The whole event was informative and interesting and we were delighted with all the positive feedback about BoreSaver treatment solutions, both from the speakers and delegates.
"During the Practical Rehabilitation workshop there was a real emphasis on good maintenance and monitoring, making the point that you can't just leave boreholes alone otherwise you will lose yield, pumps won't work and contamination will build up.
"There were strong endorsements of the success of using oxalic acid for cleaning and this is a key component of our BoreSaver solutions. Professor Brassington used a series of slides to demonstrate the ease with which treatments can tackle contamination while leaving equipment in situ, and referred to what he called our 'magic ingredient', which is the addition of a marker to give an instant all clear and show that any remaining chemical residue has been removed.
"There were also a number of comments from the floor, with delegates talking about their own experiences of using BoreSaver successfully, which was very pleasing to hear too."
Among the other speakers at the workshop were James Whitford of European Geophysical Services, who talked about the various techniques of borehole geophysics and touched on the benefits of downhole cameras for well analysis and surveys; and Michael Bushby, Borehole Engineering Services (Drilcorp) who looked at the advantages of restoring boreholes with high pressure jetting equipment.
The event also gave Geoquip the opportunity to promote its relationship with Laval and display the Laval range of cameras, including the new Laval R-Cam 1000 TLE downhole camera with level wind. Completely portable and with a self-contained video inspection system it can inspect boreholes up to 300 metres deep and 30.5cm in diameter.

There was also a great deal of interest in Laval's Deep Well Camera Systems, which offer deep well options down to 609 metres (2,000 feet) in the case of the DW-2000.
Sharing the Geoquip stand was Richard Knipe, UK Sales Manager for Franklin Electric E-tech, who put a major focus on the recently-launched High Efficiency Submersible Borehole System (HES).
Delivering energy saving efficiencies of up to 20% above standard borehole motors, it is the only submersible system of its kind on the market.
Franklins has now extended its range to include a 4" motor size up to 7.5kW as well as the more familiar motor sizes of 6" and 8". This, says Richard, offers even more benefits.
"There was a lot of interest in the energy saving advantages of the HES and, even better, because this motor has a smaller diameter, it is a more affordable option. That means a reduction in capital investment and a shorter payback time, so it's a win-win solution," he said.
Speaking about the conference overall, Richard added: "It was good to see the increased awareness of Geoquip as a solutions provider and also for the team's expertise and the fact that if you have a question there is someone at the end of the phone to help answer it.
"Overall the event was very good and we were pleased to share a stand with Geoquip."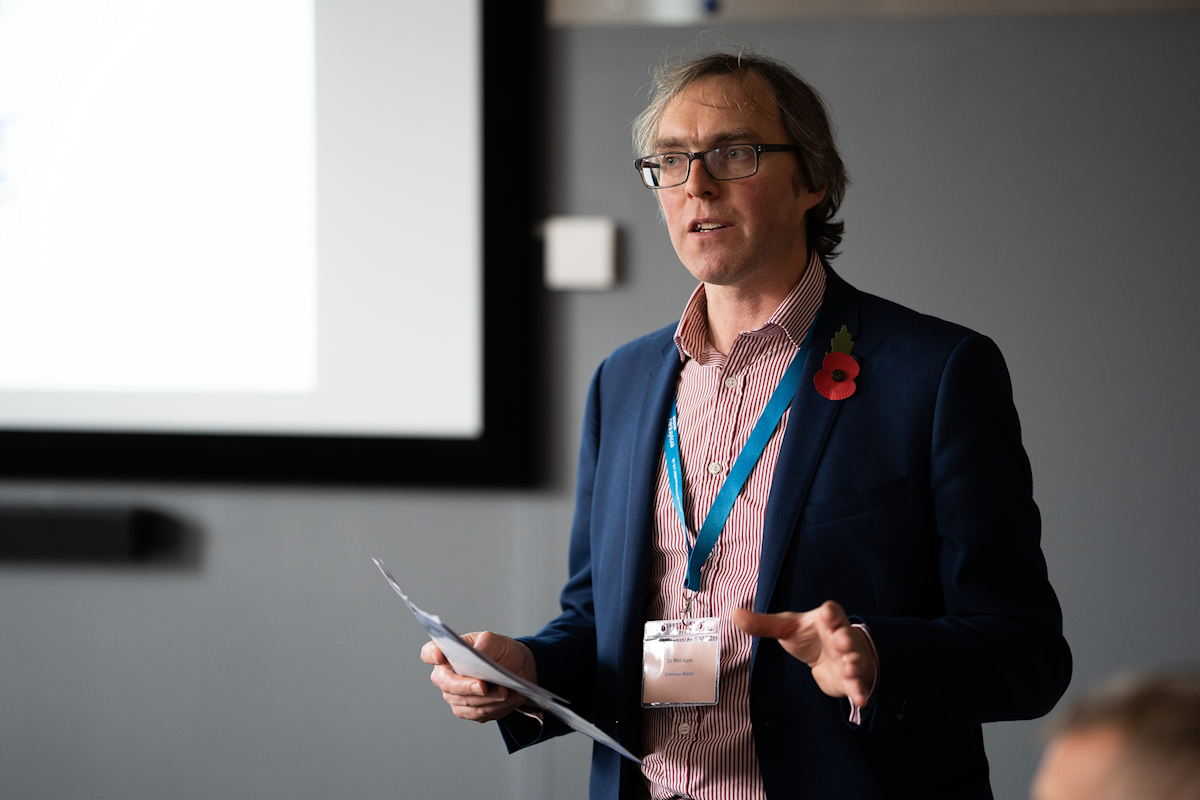 Dr Phil Ham commented: "We were extremely pleased with the number of delegates who attended and it is clear from the excellent feedback received, that the speakers and topics were much appreciated.
"We would like to thank all those who both attended and participated for making it an invaluable learning and networking experience."
Details of the presentations can be found at https://www.envireauwater.co.uk/knowledge-exchange/presentation/
Delegates' Geoquip questions answered:
Q. Can you use BoreSaver treatments without removing the equipment from the well first?
A. Yes, BoreSaver is designed to be use in situ. We have added a marker into the formulation so you can see when it runs clear. This guarantees that no chemical residue is left in the water supply.
Q. Is BoreSaver approved by the regulatory authorities?
A. Yes, it has NSF/ANSI/CAN 60 standard, which was developed by a team of scientists, industry experts and key industry stakeholders who set health effects criteria for many treatment chemicals including well drilling aids, including well rehabilitation aids.
Q. How do I know which BoreSaver product to use?
A. Talk to us – our experts can assess your situation and recommend the best solution. For example, our BoreSaver Ultra C PRO is for more severe cases or iron oxide, manganese oxide and iron bacteria contamination; while our MultiKleen is a general all-purpose cleaning treatment
Q. Do you carry spares for Laval and Franklins' equipment?
A. Yes, we have an extensive range of spares in stock with delivery times a maximum of 48 hours.
Q. Can you undertake servicing or repairs?
A. Yes, we are partners and European service centres for Laval and Franklins. (TBC)
Photo credit: Envireau Water https://www.envireauwater.co.uk